Documents obtained by nonprofit Judicial Watch under a recent Freedom of Information Act Request (FOIA) reveal the U.S. government and the UK have a secret confidentiality agreement to hide information on Pfizer's COVID-19 vaccine and adverse events.
In a Dec. 9, 2020 email exchange, Philip Krause, a former member of the FDA's vaccine advisory committee who resigned in 2022 when the Biden administration pushed its COVID-19 booster shot plan, sent the following email to officials with the UK's Medicines and Healthcare products Regulatory Agency (MHRA). Copied on the email was Dr. Marion Gruber, who later resigned with him.
In the email, Krause asks if it is possible to talk under "our confidentiality agreement."
A U.S. Food and Drug Administration (FDA) vaccine advisory meeting was scheduled for Dec. 10, 2020, and Krause was seeking information on anaphylactoid reactions to the Pfizer-BioNTech vaccine reported in the UK. The MHRA's Jonathan Mogford provides information on "two cases of anaphylactoid reactions in individuals with a strong past history of allergic reactions."

Dr. Peter Marks, director of the Center for Biologics Evaluation and Research within the FDA, references this "mutual confidentiality agreement" with the MHRA in an email stating, "it would be very helpful if our Office of Vaccines could receive additional details on [redacted] from MHRA under the terms of our mutual confidentiality agreement."
Mogford replies, "… attached are [redacted] hope that's helpful in the meantime. If I can just remind – information shared under our confidentiality agreement."
Mogford did not provide a copy of the confidentiality agreement, and the FDA did not respond to questions about the agreement either.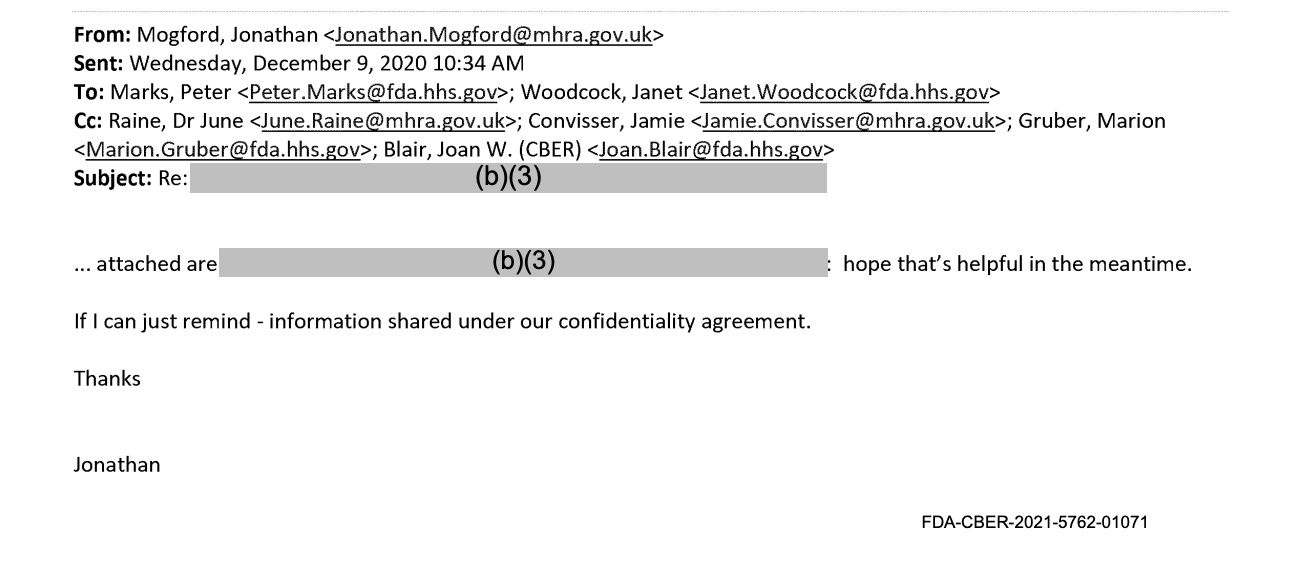 Jamie Convisser with the MRHA responds to Krause and says the information shared is not in the public domain, reinforcing that the discussion needed to be kept confidential.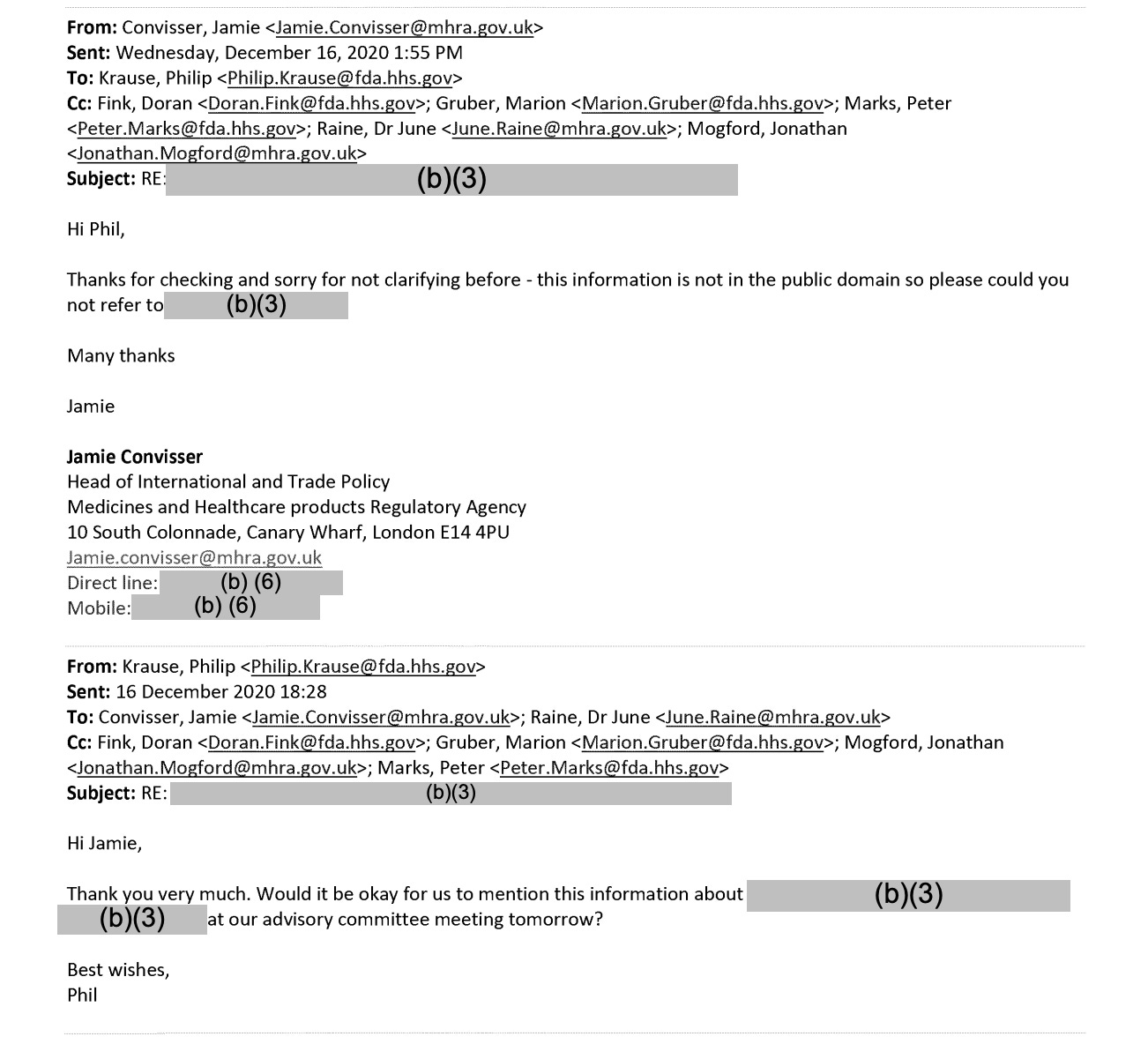 Other emails obtained by Judicial Watch appear to be heavily redacted and relate to the administration of COVID-19 vaccines with other vaccines during pregnancy.
The emails were obtained after the nonprofit sued the Department of Health and Human Services for failing to respond to an Aug. 30, 2021, FOIA request for:
All emails sent to and from members of the Vaccines and Related Biological Products Advisory Committee regarding adverse events, deaths and/or injuries caused by investigatory vaccines for the prevention or treatment of SARS-CoV-2 and/or COVID-19 currently produced by Pfizer/BioNTech, Moderna and/or Johnson & Johnson.
"It again took a lawsuit for the Biden administration to hand over, albeit heavily redacted, information regarding the safety of the COVID vaccines that the public has every right to know," Judicial Watch President Tom Fitton said in a statement. "This disturbing batch of new documents have uncovered a secret confidentiality agreement tied to COVID vaccine safety issues and emails that raise new questions about the vaccines and pregnancy."
In a press release on its website, Judicial Watch said it is pursuing challenges against the agency's redactions under FOIA. In a previous FOIA lawsuit, Judicial Watch received 1,081 pages of records from HHS involving internal discussions about myocarditis and COVID-19 vaccines and "adverse events for which a contributory effect of the vaccine could not be excluded."